Posted by Mummy Dearest on Oct-27-2002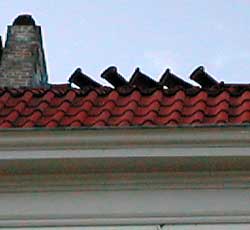 We are in the midst of a terrible wind storm- winds of up to 130 km per hour. The winds have ripped the drainage pipe off of the back of our house and pulled up the main spine of tiles on our roof- we could loose all of the tiles. People are out playing in the wind, in front of our house, even though they can see the shattered tiles on the street in front of us. We sit and listen for people, to point out the obvious danger to them.
The police usually come and block off a street in a case like this, but they are too busy at the moment.
It should ease up at about 7. The tiles sound like bowling balls as they skitter off of the roof.