Posted by Mummy Dearest on Nov-4-2002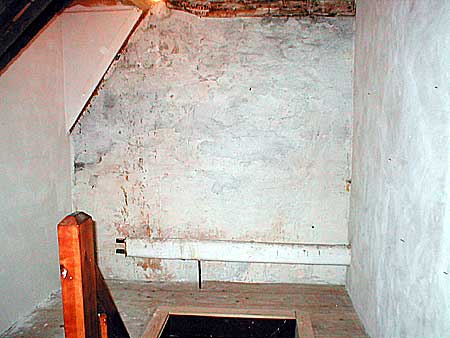 After this weekend's positive results re: the rebuilding, I've decided to start following it a bit more than I have lately. To tell the truth, after more than a year of living in a construction site, the last 6 weeks or so I've been a pretty grim person, moody and glum. I've blamed it on the Stats meter, on hormones, on just about everything that I could think of except the obvious : the rebuilding was really dragging me down. I think it would bother anyone.
Mr.Jo is now finishing up The Baby's room. After her room, the next area that he will attack is this small hallway. I chose this to put up because it really looks horrible and I think that it will end up very nice indeed.
So what are you looking at ? Well, I am standing in a doorway, on the left is the wall which abuts The Baby's room, on the right is the wall of the laundry room. Straight ahead is the original wall from the 1600′s, in the floor is the opening for the stairs, which come up from the second floor. What really doesn't show up is a lovely assortment of beams, both in the ceiling and on the left. The door that I am standing in, as well as the wall that it is a part of, will be pulled down. The now redundant heating pipe straight ahead will also go.
Mr. Jo will be building wrap-around book cases on these three walls. The Father and I have a lot – and I mean a lot – of books. These bookcases will be for books that we rarely ( if ever) look at but don't want to throw away. A lot of 'junk' books will end up here, as well as the thousands of xeroxed pages from my big adventure in archaeology.
Exciting, isn't it ?