Posted by Mummy Dearest on Apr-20-2003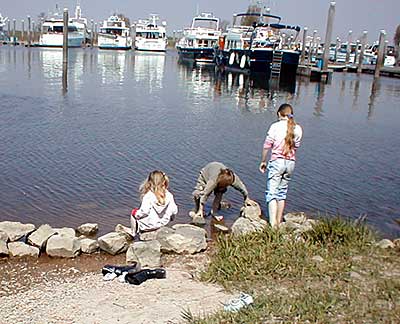 Every Sunday , we take a long walk with the puppies. Usually, attendance is mandatory, but today, seeing how it is Easter and all, The Father didn't feel like going and so the children and I went for a walk without him.
We ended up wandering through town, stopping by our favorite places, for almost two hours.
Town – of course- was packed with tourists. The bookstore now has a rack of foreign papers out on the sidewalk. Soon I won't be able to step outside of our door or water the geraniums without someone stopping and asking me for directions.
For the most part, I don't mind the tourists.
Except for the boat people. For some reason, the boat people annoy the shit out of me. I don't know if it is because they all buy their clothes from the I-own-a-yacht catalog or their the-world-exists-for-my-pleasure attitude, but soon I shall be sending The Girl to the bakery on weekends, because that is when they really annoy me the most.
Instead of being able to breeze in and out of the bakery, during tourist season it will be packed, 15-20 people, and if I'm really lucky, there will be at least 4 boat people ahead of me, the men wearing polo shirts, the women covered with gold jewelry. Let's use the couple in front of me as an example. Having waited in line for 15 minutes with nothing to do but look at the various breads and rolls on display, they will go to the counter .
'Oh my', she says 'What shall we get ? What do you feel like having , dear ?'
Dear never really responds to this rather rhetorical question, and I stand behind them, visibly growing older as she orders 50 euro worth of baked goods. Just when I think she has to be done, she'll pop up with another thing she simply must have, Oh ! The egg salad looks nice…what's in it ? Do you have any parsley ?
I was reminded today of how much the boat people annoy me when the kids, the puppies and I stopped by the 'little beach'. As the kids walked in the water, three people on the blue boat in the photo started making snarky comments about them, especially when I took out my camera to take this picture.
I was very glad that the kids were having such a nice time that they didn't hear what the people were saying.