Posted by Mummy Dearest on Oct-15-2003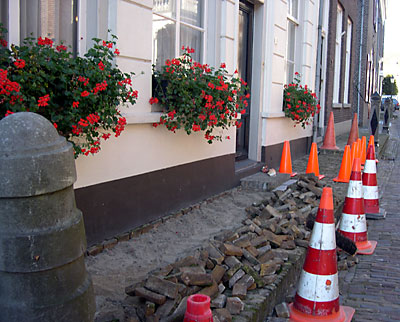 When the children and I stepped out of the house this morning, we couldn't help but notice that our stoop was surrounded by a good dozen of those orange and white traffic cones. Looking to our left, we could see that all of the bricks there had been reset and looking to our right, we saw the man who resets and maintains all of the brick sidewalks and cobblestone streets in town pulling out the bricks on that side of the door. I said good morning to him, noticing that he had a new earring , and took our bevy of rather bewildered children off to school.
It's like that in our town : I never know when I look out of a window ( for the large tree in our yard belongs to the city, as well as a small portion of the wall which surrounds our garden) or step out of the door, if some hulking- but pleasant- stranger will be there. And our stoop belongs to the town as well.
At least three times a year, a bit of a screed will appear in our local paper, telling those of us with stoops that we must not place potted plants or wooden benches on our stoops. It pollutes the view, we are told, and- we are reminded- the stoops belong to the city, they are not a part of our property.
And that is just fine with me. In ticking off the division of duties within our household, The Father and I have butted our heads a few times. One unresolved allocation of labor is who polishes the children's shoes : in my family, my father always did it, in The Fathers family his mother always did it. Our children have remarkably scruffy shoes.
Another point of contention was the stoop :The Fatherr felt that I should thoroughly clean it once a week- but never on Sunday. I could never quite bring myself to take the stiff-bristled broom out of it's webby shroud and sweep off the stoop every week. Or weed it, unless there was a danger of fatal injuries.
And so the city's screeds came to my rescue : you know Father, it's not our stoop, it belongs to the city, let them maintain it. And sure enough, once I began neglecting our stoop, the city stepped in and began tending it. They come by with a blow torch 2, 3 times a year and fry off the weeds, the man in the little yellow truck tidies up the bits of refuse the tourists and their dogs leave and in short, the city maintains their stoop very well.
I don't mind not being able to place potted plants or rustic benches on the stoop at all. But it is nearly 10, and I suppose I should bring him a cup of coffee.
It's that sort of town.