Posted by Mummy Dearest on Nov-20-2003
Just about everyone and their brother. This morning- just as I was gathering up the coats for the children- The Girl came charging into the kitchen in a huff. 'Some man', she fumed, 'is smacking at our front windows'. Looking into the living room, I told her that that man was the window washer, calm down.
A few minutes after I returned home from taking the kids to school, Mr.Jo appeared. Yes, he has returned to finish off the last bit of the house. I don't even know what to call this last bit, perhaps ' The Grape Arbor Which Ate New York'.
It started out simply enough : I wanted a grape/ rose arbor like the ones in Italy. And then it began to grow : if we screen it in, the dogs can go there in the summer and be protected from the flies. And grow : if we put a roof on it, they won't get wet and we can sit there. And grew : if we have windows that we can pop in and out, it won't be too cold in the winter.
I have no idea what this thing will look like when it is done. Mr.Jo assures me that it will be lovely.
That alone makes me apprehensive.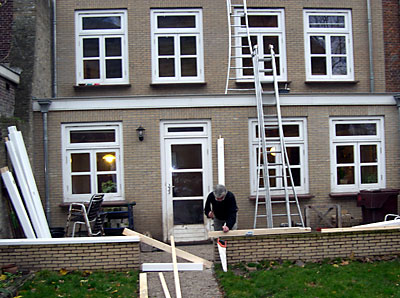 mr.jo and the-grape-arbor-which-ate-new-york. note the ladder going up to the third floor : the window washer. it was very busy here at coffee time ( 10am, edwin).
Having announced to The Father that I was going to go and take a picture of Mr.Jo and the thing( a Day 1 sort of thing), he wistfully asked me ' Aren't you going to take my picture as well ?"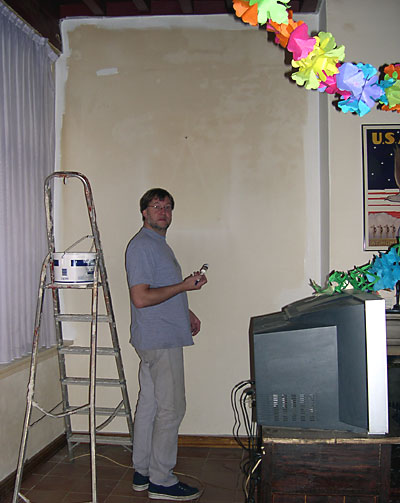 The Father and the wall next to the fireplace-which-we-burn-all-winter-long.
Oh, and how could I forget ? The computer guy came ( the one-in-the-know-about-networks) and the wireless is running flawlessly.
So far.