Posted by Mummy Dearest on Feb-25-2004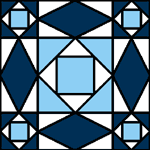 First cooking, now sewing, next I'll be giving stain- removal tips, I know…
However, I have just started a new quilt and while I won't pretend to give quilting lessons, I wouldn't mind showing how I do it. Mind you, it usually takes me about 2 years to make a quilt…
Once the guy from the KPN ( March 5, am I counting the days ?) comes by and straightens out my computer, quilting stuff will be thrown over on the right, by the puppies and other such things.
Until then….




I started quilting when I was about 18. This doesn't mean that I have made a lot of quilts, for it takes me a very long time to finish one. That is why I started quilting : Bucky's convent education left it's mark in a busy- hands- are- happy- hands atmosphere our home. Yes, as well as being able to cut a fine balk, as a child I was taught to knit, crochet, do fine embroidery ( 'the back should be as tidy as the front') , you name it, I learned it. I even know how to darn a sock, but who wants to ?
When doilies and antimacassars went out of fashion, I found myself fidgeting about in the evenings, not knowing what to do with my hands. Quilting seemed to be the perfect thing for me, they take forever and you can always use a blanket.
Patchwork appeals to my fondness of geometrical figures, although one day I might do an applique quilt , for they show off the fine feathered rings nicely.
The quilt that I am starting uses the pattern Storm at Sea. It is a pattern I have wanted to do for a long time, and in fact bought the material for years and years ago. Even then, I couldn't decide what shades of blue to use and so bought a light, a medium and a dark blue. I ended up using the medium blue for The Boy's baby quilt, so I'm left with a very light and a very dark blue. I am beginning to think that the light blue won't work after all, that it will wash into the white, but, well, this is a blanket, not one of life's big decisions.
Once I have picked out my pattern I then have to decide what setting I want to use: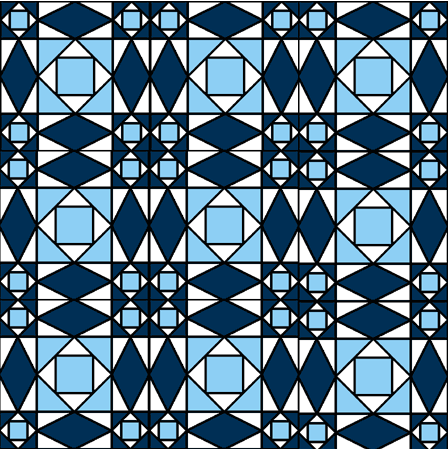 this setting


or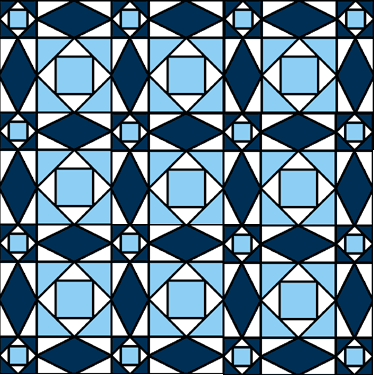 this setting.


The next thing that I will do will be to break down the block and rescale it. I tend to like blocks on a smaller scale than usually used. Lots of math involved.