Posted by Mummy Dearest on Feb-13-2004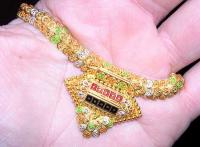 The Father and I rarely give each other gifts. It's an old habit which developed during our days without money. And the fact that – by nature- I'm a low maintenance sortof person. Except for the computers, the cameras, the pricey dogs. And there is the the fact that I don't like receiving gifts.
I wasn't expecting The Father to bring me a gift from India. The thought alone left me speechless. Well, not quite : I looked at him as though he had lost his mind and said 'You know that you don't have to bring me anything'.
And then he handed me a flat, square box. Sitting next to me on the couch, he awaited my reaction : I simply loved it. Really, it was such a 'me' looking thing. That was such a strange feeling, getting something so very much to my taste.
It is the first time that I have received an expensive gift from a man, one of those things that many women receive all of the time, some – in fact ( or so I have read)- even expect to receive all of the time.
There are two pictures of my gift. Two because I just couldn't get the colors to come out like the actual article. I think that the colors are more like the second photo than the first..
But the colors are very Indian and I love my little gift.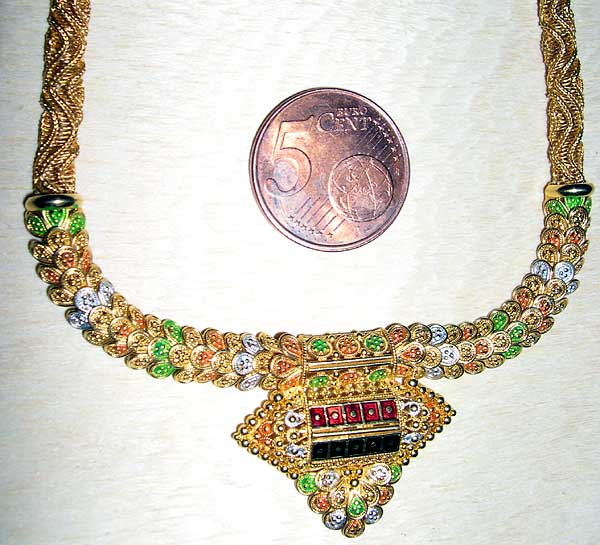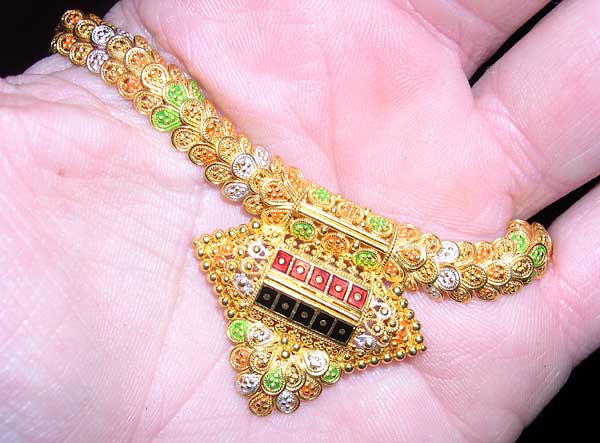 It is an enameled, 18k gold choker sort of necklace. The colors really are more subtle 'live', except for the gold, which is that almost orange color so typical of gold jewelry in Asia and India.