Posted by Mummy Dearest on Jun-26-2004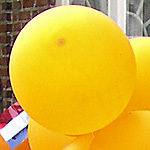 Sitting on the arm of the couch in the living room, talking to The Father on the telephone, I can hear a terrible racket outside, coming nearer to our house.
As I chat away, a group of about 50 bikers passes not 2 meters away from the window I am looking out of. They are all wearing orange clothing. Their faces are painted orange. They have silly ( read : stupid) orange hats on and their bikes are festooned with acid orange balloons.
Each biker also has a special horn or tooter of some sort, which when pushed, bellows like a cow.
I feel like I'm sitting in the middle of a cattle stampede, something right out of Rawhide.