Posted by Mummy Dearest on Jul-7-2004
Of course, I ran about like a fool this morning, in a mad attempt to disguise two weeks of sloth. I even flung all of the windows open and let the strong breezes of the day whip through the house for a few hours.
But in the late afternoon, I simply farted about. I found myself drifting about at Ebay, looking at this, looking at that. The Father and I poured every penny that we had for the last 10 years into rebuilding the house, and so…well…we never really decorated. The money went for pipes and wires and pumps, invisible to the naked eye. We have only recently started to buy things for the house- especially the kitchen. After all, we now have all of these cupboards that need to be filled, don't we ?
Well, one of the things that we need are new coffee cups. I'm not one of those people that needs pricey china, but I do like to have at least 6 coffee cups that vaguely resemble one another, and we seem to have passed that point a few months back.
Yes, I need new coffee cups. I actually found the cups of my dreams at Ebay today. Love them. Very affordable as well. The drawback : they are only 10cm high. If you are Dutch, think : The Hague.
Could I learn to live with a mini- coffee cup ?
Picture of my latest obsession: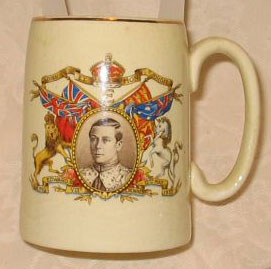 God help me, I love these mugs.