Posted by Mummy Dearest on Jun-24-2005
If we look at the front of the coin, taking into consideration the two options open to us due to the back of the coin, the curves and angles that we see become clearer.
The front of the coin :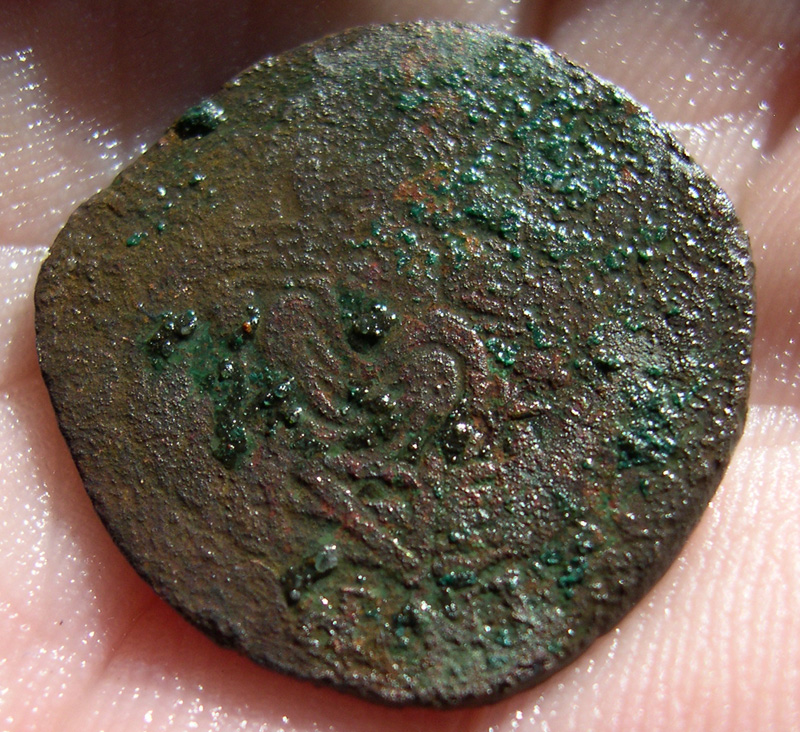 A common element, or symbol in early dutch copper coins, we are told, is the Dutch Garden. Now, I have dug up back yards- or gardens- in New York City, of Dutch settlers of the 1600′s : they truly seem to believe that good walls make good neighbors. The area that I worked in was from the early 1600′s and, I kid you not, it is the same floor plan that you find in your average new area here today in the Netherlands. Including the contentious mutual wall.
So, think Tom Sawyer, think picket fence, and then look at the front of the coin once more :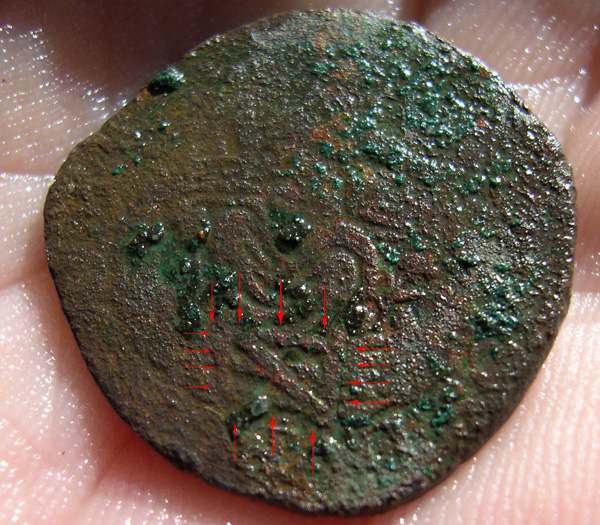 I am seeing the gate to a picket fence.
If I twist and turn and flip the coin a bit, I can see a vague oval shape, perhaps showing a walled garden :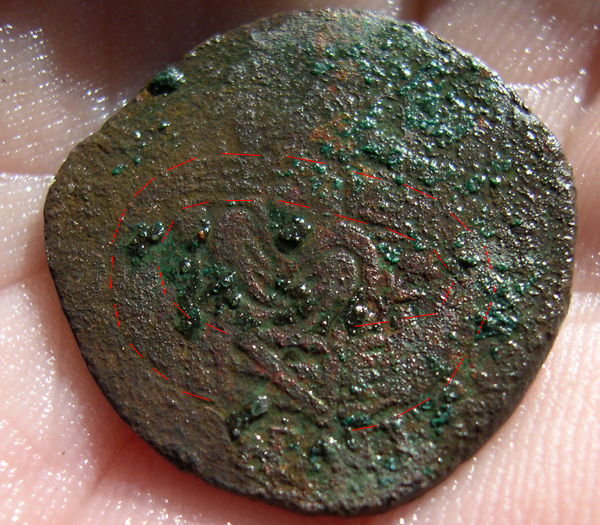 At this point, given the back of the coin and the Dutch Garden, I don't have many more options for this coin : I might see a scary lion, but basically, I should be seeing a virgin, sitting in the middle of the garden, wearing a flowing robe, pointing with her right hand to the sky above, for wisdom.
At this point, I can't see a torso. Oh, all of those curves above our gate might be her legs, covered with the flowing robe, but then, well, she would have to either be sitting on the ground, knees spread apart with her feet tucked together under her bum, or to be sitting with her legs spread very far apart indeed, for a virgin.
Since I can't see a torso, it just might very well be a swan, all of those curves.
So much for the virgin, tomorrow the traces of text.
Here is what I should be seeing :