Posted by Mummy Dearest on Jun-16-2006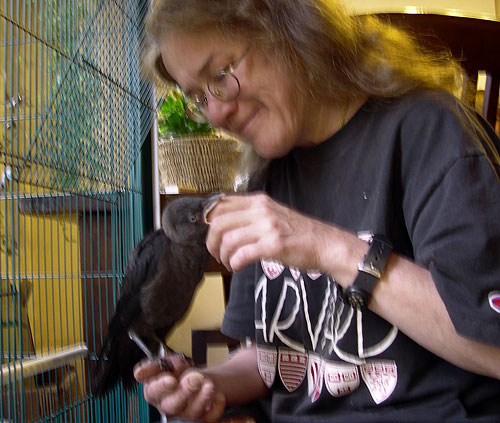 It is after dinner, no flash allowed. Max is gobbling his food as though he spent most of his life in a labor camp.
Please note that my forefinger is all of the way down his throat.
And be reminded, this animal does not stand still while eating- he sucks away on my finger like a babe on the breast- or a babe on the bottle.
You chose, I'm not vehement one way or another- eh, feed the thing.
Mr. Jo – of course- has offered to care for Max while I am gone.
Oh, and Max is not a crow.
Max is a Jackdaw.
Hmmm, Mummy Dearest loves this bird, even though he cannot fly, even though it is illegal for me to feed and care for him.
Nice beast.