Posted by Mummy Dearest on Oct-17-2006
And just what does the couch and my little room of my own just have to have?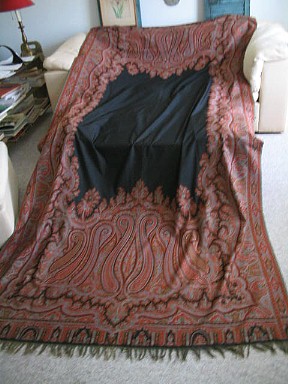 ANTIQUE Large Victorian Paisley Shawl w Fringe, Label
Superb design, beautiful colors and excellent condition. This big paisley shawl has it all.
The shawl has a large black center field and intricate boteh decorations at the ends and around the edges.
Victorian and woven in England. Finely machine loomed from wool yarns. Colors of teal, yellow, olive green, black, gold, blue, cream, brick red. The fringe is olive green.
Large size and measures about 5′ 2″ wide x 11′ 3″ long (including 2 1/2″ fringe at either end).
Sewn into one corner is a small label printed in ink with 24.458 over 2029 noir.
Very clean. The shawl came from a former ambassadors home and was stored in a closet.
I know. There are small children starving across the face of this planet….