Posted by Mummy Dearest on Jun-4-2008
For a few years before I had The Girl, Dad and Wicked Step- Mother lived in Germany. The Father and I would drive down there almost every weekend, and once more, I went home again ( you know, that place where you hang your hat).
I was about three months pregnant with The Girl when they decided to move to Alabama : Wicked Step- Mother wanted to be near her own mother, who was in her 80′s. I suppose that if they had known that Granny E. would still be driving her tractor 14 years later, they might have hung around a bit longer, but- of course- they don't print that sort of news in the daily astrology column of most newspapers now, do they ? In fact, Granny is pushing 100 now, and was doing fine and well until her older sister died two years ago.
During the past 16 years, Dad and Wicked Step- Mother ended up caring for a lot of Grannies: Granny E., Bucky ( Dad's mother), and Frenchy ( my mother's mother- boy, I am so glad that they pulled her out of that pisspot of a nursing home she was in up in Detroit…).
Now, one of the things Dad told me was that as Bucky and Frenchy neared their just rewards, they both had an irresistible urge to *tell all*, of their hidden , deep and dark secrets, of their regrets and of the things that they wished had done differently.
I am now beginning to believe that this is a stage that all go through, as the light leading to the pearly gates nears.
Now, we have been going over to Alabama now for a number of summers. It started innocently enough, Dad and I chinking glasses of gin together ( not that I like gin, but he drinks it because he recalls his Irish Grandma sneaking into the kitchen for a nip or two as an evening progressed) and I would ask him about the family ( you know, me and that whole Kerlin stuff).
This all progressed through a number of summers. The next step, was his deep desire to tell me what my mother was really like, as a person, not just as a mother. Ok. Nothing bad there, but also nothing that I knew she wanted me to hear.
And then came his stories. At first they were ok, I have adored Dad since I first opened my eyes. First there were his stories about being a Ranger, of the different wars he had been in and how he felt about the experiences.
But then he had an irresistible urge to *tell all* about himself. As one summer melted into the next, the revelations became harder and harder to accept with a loving comment, although my love for him forgave him everything.
And last Summer, I simply learned too much, heard too much, saw too much.
I came home filled with rage.Why ? I suppose that I felt that all that I had been told had taken away my memories of my childhood. I knew that I grew up in a big, fat lie.
Of course, I said nothing to Dad, I am far too wishy washy for that, but I raged and lashed out for months after I returned home.
And I told The Father that if I never saw Dad again, I would not care.
But my own Rosebud has brought me back, has made me see what I can choose to remember : my memories or his.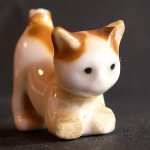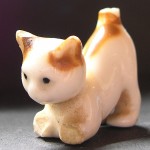 Almost every day, I hold my Rosebud, and in her, I find the truth.