Posted by Mummy Dearest on Feb-3-2010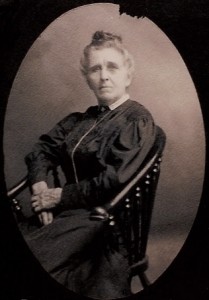 Virginia Carbis was my Great Great Grandfather's maternal Aunt. As far as I can find, there are no photos of his mother, Maggie. And so this photo, courtesy of Piedmont Fossil, a third or fourth or you get the idea cousin of mine has been a treasure to view. He also provided his family stories, printed below.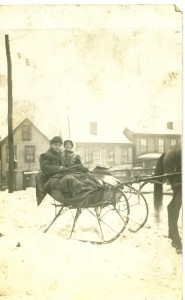 My Great Great Grandfather, Sam Kerlin, with his daughter, Eva Kerlin, 1915. Now, this is a horrid photo, most likely made by the family photographer, the older sister Gretta Kerlin ( named after Maggie Carbis) with her shiny new brownie camera. The sleigh , though, is to die for and hey, this is in the part of Pittsburgh that my family refuses to let me visit ( Thompson Street). Now, I knew my ( Great )Grandma Eva quite well, she was about 4 square when I knew her, 5'2 to 5'4 inches tall and just about as wide. But if you look at the man and girl sitting in the sleigh, they seem to be about the same height.
I think that I killed a scanner blowing up this picture. Sam Kerlin's eyes turn down at the outer corners, as do Virginia Carbis'. They have the same rather skewed eyebrows. And they both look like they have never smiled in their entire life.
And that is all of the tat that I have.