Posted by Mummy Dearest on May-7-2010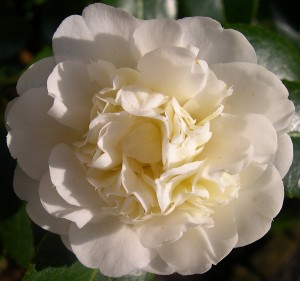 Long ago and far away, we needed …something… to block the view over one of the walls in our walled garden. The Father wanted some flavor of pine trees. I like pine trees fine, at Christmas. Otherwise, I loathe them. I do a happy dance every year when that old Christmas tree has died. I want to plant raspberry bushes there.
A few years ago, I ordered 10 ( count them, 10 ) Camila bushes. They were knee high to a grasshopper when I received them.
I have been laughed at for at least 3 years about my camilias. They grow very slowly.
And yet, after this hideous winter, we had hundreds of beautiful blooms on my camilias. We all enjoyed it very much, they bloom first, before everything excepting snowdrops.
I tidied them up today. One is about 1.5 meters tall, then there is that one that Elvis chomped down, but they ponied through the winter. Much to my surprise. They need some acid, they might have cooties ( I cannot begin to translate what they might have), but they are stinkin´beautiful.
Why have some sort of pine tree when you can have Camilias .