Posted by Mummy Dearest on Sep-12-2006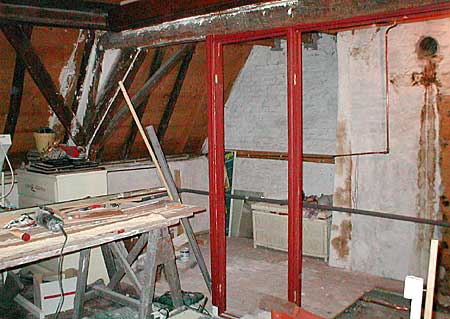 This is where I want to put a second bathroom. It is a strip about 5.25 meters long, 2 meters wide, with the bulge from the chimney in the middle. Jo and I figure that we can put sinkd in front of the chimney, a tub to the left of the chimney, a toilet on the right of the chimney.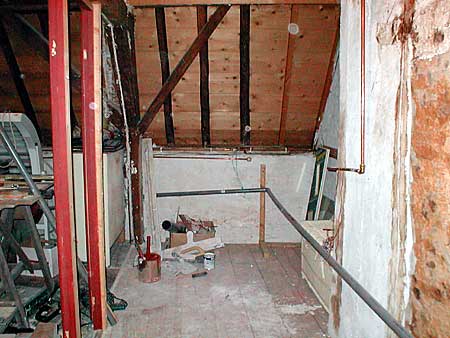 Here I am standing in front of the chimney, looking towards the area that Jo and I want to put the bath.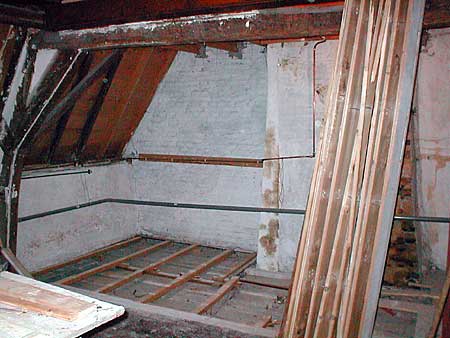 Jan. 22, 2003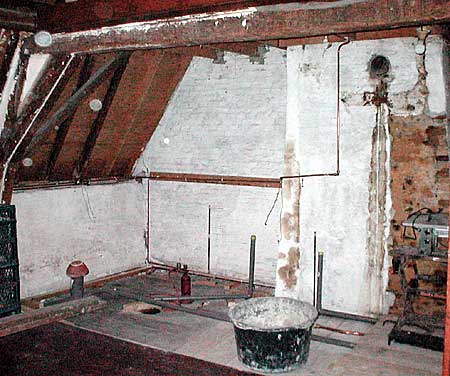 Jan. 26, 2003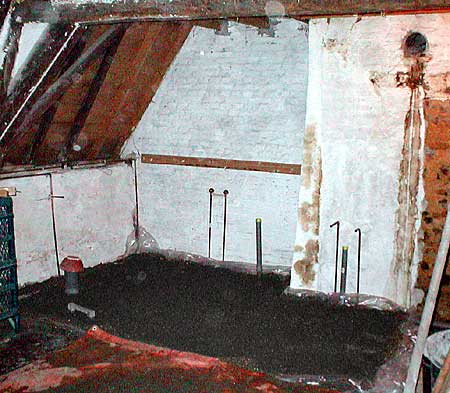 Jan.28, 2003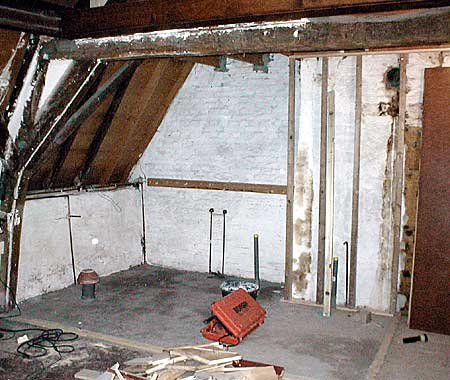 Feb. 2, 2003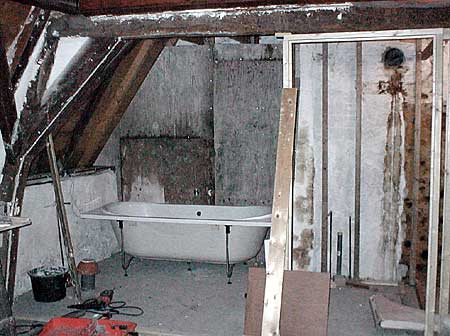 Feb.10, 2003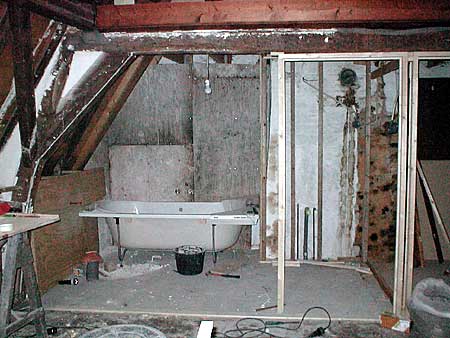 Feb. 11, 2003

Today, Mr. Jan rigged up the electricity and water-works.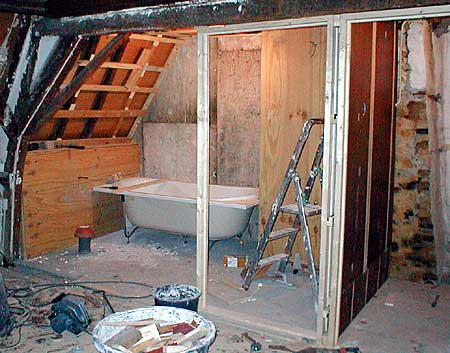 Feb.17, 2003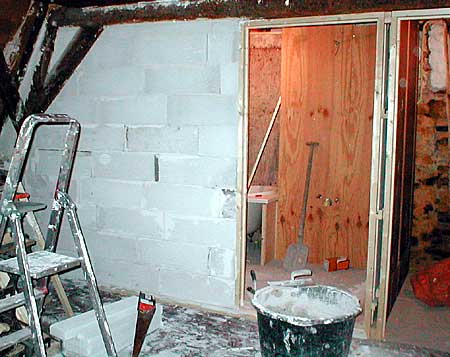 Feb.19, 2003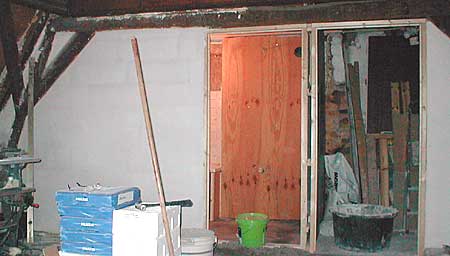 Feb. 28, 2003
Jo wasn't here much this week, but did plaster the bathroom walls and start on the tiles. We didn't go with my idea of doing the bathroom in yellow and white as Han found these very rustic, white marble tiles and fell in love with them. Fine with me, as we did get the larger ( 180 x 80 ) bathtub, which was something that I cared about.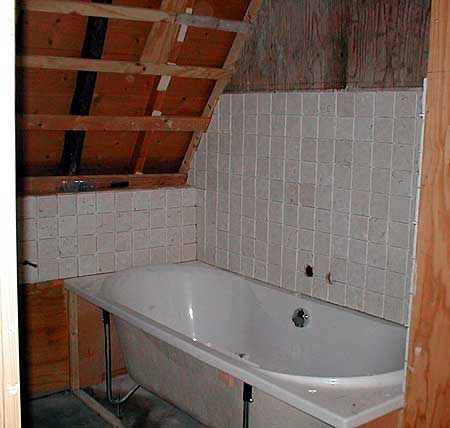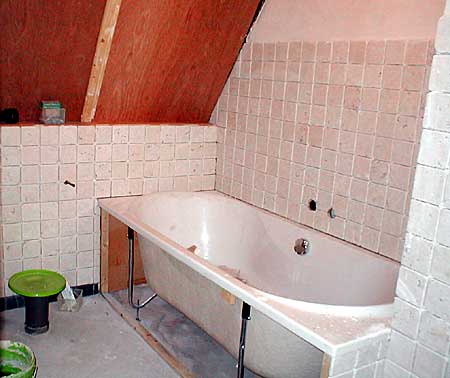 march 15
things are crawling along here, as Mr.Jo is only coming in about 14 hours a week. He has promised, though, that he will be here on monday, he won't answer the late night tappings on his window sunday night…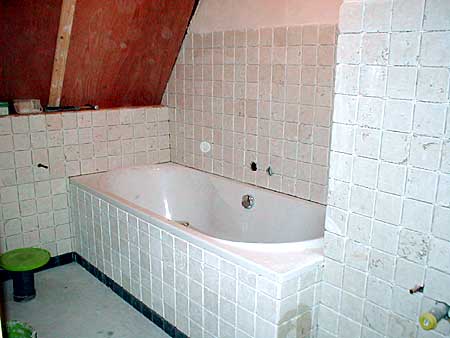 march 17
Well, all of the wall tiles are up ! Mr. Jo was here today !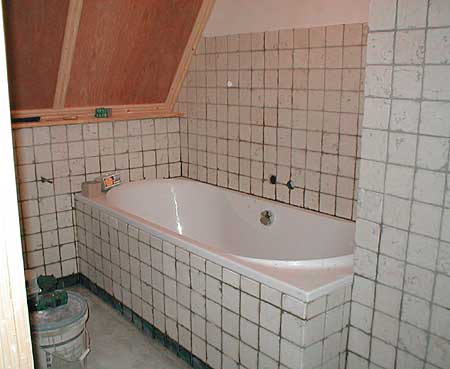 march 17
three words : sick at heart
four words : make it go away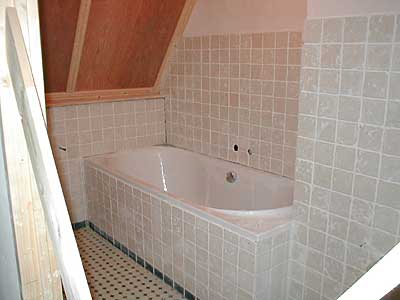 march 25
now, that is much better, isn't it ?
white, like it should have been in the first place.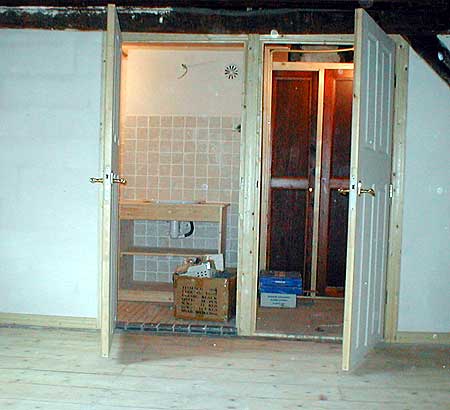 may 9
Jo has made a nice little cabinet to hold the sink.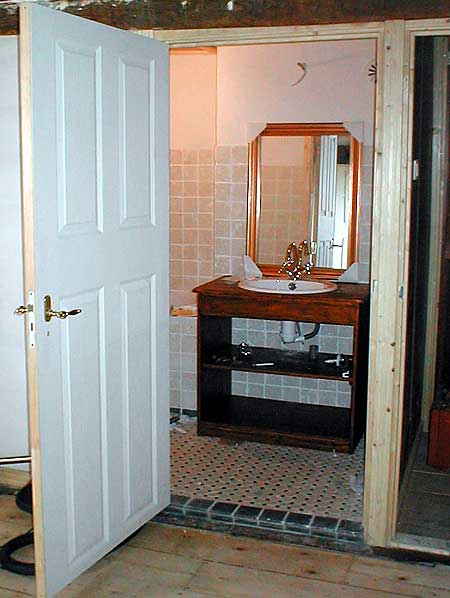 may 13
Over the weekend, I stained and varnished the cabinet, and today Mr.Jan began hooking up the various fixtures.